UNLOCK THE POWER OF PSO
Developed in a New Zealand pharmacy with one thing in mind; to provide a range of products for dry or sensitive skin using gentle, nontoxic ingredients. Cubita Skincare unlocks the power of Pumpkin Seed Oil (PSO) to comfortably keep the skin in its powerful repair mode at all times.
Over x3k online orders dispatched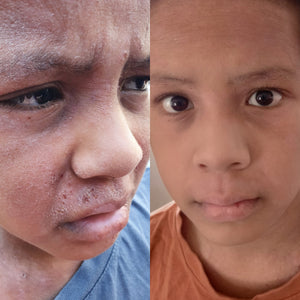 Within two weeks
This was achieved by using the Rich Moisturising Cream after cleansing with our Goat's Milk Soap. Minimising irritation while maintaining the optimal amount of moisture to allow the skin to breathe and heal.
Within one week
This wonderful transformation was the result of adding all three products in the Relief Kit to the daily routine. Just incredble!
Within four days
A remarkable transformation after applying the Rich Moisturising Cream for 4 days. This handsome boy's family had tried everything to help his skin and nothing had helped until they started using Cubita Skincare.
What makes us different.
Cubita Skincare unlocks the gentle yet powerful properties of the oil extracted from pumpkin seeds. Naturally packed with powerful vitamins and minerals, pumpkin seed oil (PSO) provides the perfect environment for the skin to start its effective healing process without irritation. Created and tested by a pharmacist in a pharmacy, resulting in the most comfortable formulations.
How it works.
Pumpkin seed oil (PSO) is rich in vitamin E, zinc, omega 3- and 6- fatty acids as well as antioxidants, therefore it has tremendous benefits for the skin in terms of retaining moisture, fighting free radicals and maintaining a youthful appearance. The high amounts of zinc and vitamin E also improve skin tone, help wounds heal more rapidly, fight acne and help with skin renewal.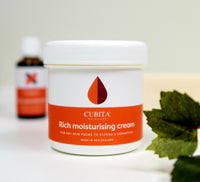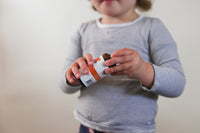 Unlocking the power of PSO.
What do you do when you have wonderful ingredients and a degree in pharmacy? This is where two years of formula development came into play. Delivering these powerful properties in formulas that are gentle and comfortable to apply to dry or sensitive skin. The results speak for themselves, with return customers now accounting for a big portion of our over 2.5k online orders and over 10k units sold to date. Questions? Call our team on 0800 ECZEMA.
From the dispensary to the world.
The journey started in 2017 when I was encouraged by my mother to create a product that would help my younger brother who suffers from psoriasis. The aim was to create a product that would provide relief from the extreme symptoms associated with his condition. It was the Oil that started things, then our Oil infused Soap came next, followed by our, now best selling, Rich Moisturising Cream.
BUY THE KIT
Treat.
Created for severely dry, cracked or broken skin, our Oil Concentrate can be applied on any part of the body. Leave overnight and watch it do it's magic. All the goodness without the nasty chemicals. Suitable for all ages. Apply directly to the affected areas or add a few drops to your favorite moisturiser.
Buy Now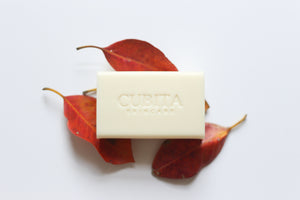 Cleanse.
Give your skin a splash of softness with our oil infused goat's milk soap. Designed to keep a layer of moisture on the skin long after the washing process. Leaves the skin so soft that you may forget to moisturise. Join our many customers who are addicted to this soap. We promise that if you do not share the same love for it we will refund you your money.
Buy Now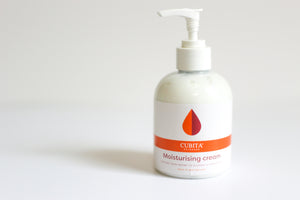 Moisturise.
Instantly became our number one seller. A fragrance free, non irritating formula that has taken us a few attempts to perfect. If you are tired of creams that are either too greasy or just feel heavy and thick, this is for you. Can be used on the face, under makeup or any part of the body that requires moisture. Suitable for the entire family and for all skin types.
Buy Now
Over x10k units sold to date
My sister got this as a present for me a long time ago when I had given up on almost all products. I could not be more amazed at the results, they have literally changed my life (photos attatched). I didn't take any photos but my face was spotty and bleeding and it has made me look as if nothing has ever happened. Thank you so much for its existence and everyone needs to try this

Penny Thakwray
So thankful that I stumbled upon Cubita! I had been suffering from eczema on my lips for about 6 months and had tried numerous products but none of them worked. The Cubita skin relief kit has completely cleared the redness and dry skin plus all of the products are so nice to use that they are now part of my daily skincare routine. Thank you so much for creating such incredible products!

Carla Moulden
"The oil has had an enormous impact on my eczema. I have had years and years of built up scarring and the oil has started to chip away at it. Using the soap bar in the shower is also amazing and I no longer come out of the shower with dried out itchy skin. The lotion is great but sadly the price is too high for me to use regularly. I can't say how much I love these products, they are having a life changing effect on my skin and my overall happiness"

Liam Kelly
"I just want to say how amazing the transformation of my skin is in such a short amount of time! Thank you for making a product that actually works"

Nic Laughton
"I can't thank you guys enough, in 2 months my face has become clear and free from eczema. Love this product"

Priyesh Gounder
"Fast delivery, received next working day. I am loving the products. I have sensitive skin and have had no reaction. Thank you"

Karen Leece
Their soaps are excellent on my dry, deyhydrated, scaly skin. I use it on my face and body. I have bought all kinds of expensive face cream but during winter they all bail out! I use hyaluronic acid and then the cream on my face and it keeps my face hydrated and protected through the day. I LOVE this!

Gek McGregor
"I like how the cream and the oil absorb into the skin nicely and last much longer than the products you get on prescription"

Ara Moeke
"This stuff is honestly some of the best stuff i have ever used on my skin. I could really see the difference in a matter of days. Nothing has ever worked the way it say it does quite like your stuff"

Gracie Wilson